Taylor Rawrs!
Posted May 7th, 2009 by jugal
jugal Interviews writemetolife
She says, "Hey Jugal! (: Ask me fun questions! <3" The signature of her email is a quote by Pete Wentz, "Sometimes love is the only thing you can all your own." Yep, all your own. And we start exchanging emails at a rate which can be called furious. During which, she promised me she'll sing for us on youtube! I waited for a while for that to happen and kept procastinating the compilation of this interview. Then I just became negligent towards my duties of posting this on the cult till it struck me today, eight months later!
Let's start with the basics. Your full name, other relevant information and vital stats for the record, please.
Name: Taylor Michelle Chapman
Age: 19
Gender: Female, obviously.
Hair Color: (Natural, Dark brown) (Current, Always changing; but I'm fond of dark reds)
Eyes: Green
Location: Shelby, North Carolina but destined for a bigger, better place
Myspace: myspace.com/22354471
Livejournal: writemetolife.livejournal.com
Ambitions: Oh, I want to go to school to major in psychology and minor in creative writing. Although I'd love to eventually be a successful author, I feel like I should have a backup, that being psych.
Why "Female, obviously."?
I guess other than my obvious reasons for being female (you know, my anatomy) there aren't many. I'm not that "girly." I like the usual: clothes, makeup, fixing my hair, but I don't obsess over it. I actually get along better with dudes. I feel like I can just be my books, music, and writing-loving self, whereas around girls I have to talk about boysboysboys. Don't get me wrong, I have my fair share of girl-friends, but it seems to me that I get along with guys better.
If there was one song you were to dedicate to all your girl-friends, what would it be?
If I could dedicate one song to all my girl-friends it'd either be Passenger Seat by Death Cab For Cutie because of all the times we've stayed up until sunrise talking about everything or nothing at all. Or You're Not Alone by Saosin for all the times we've sung songs as loud as we could on the way home from shows, not caring if we were on key or not.
So, T Chapman, eh? Music?
I love to sing, actually. I want to learn guitar, but I haven't yet gotten around to it.

Hmm, the red hair does look pretty but are you secretly afraid that you might look like certain Lindsay Lohan if you let your natural hair be?
I'm not worried about looking like Lindsay Lohan. I've been cutting and coloring my hair by myself since I was 15, and it's working out pretty well. I always try to switch things up, and do what I think will look good. And suprisingly, my hair is still very healthy! Haha. (:
I've never met anyone with green eyes in real life, not kidding!
I love my green eyes. Everyone in my immediate family has blue eyes, except for my little brother (8) and I. We also have matching freckles on our arms!
Tell me something more about Shelby.
Honestly? It's a pretty small town. There's "Uptown" which has a few art galleries and restaraunts, and then there's "the rest of shelby" which is nothing but farms, fast food places, and a mall that doesn't even deserve that title. It's more like a few stores slapped together, a long with a movie theater. Shelby is cute, but there's not much to do (which is what I hate about it.) Usually, if I want to have fun, I got to places like Gastonia or Charlotte. They're both 45 minutes to an hour away, but I feel so connected with those cities. I go to shows (small concerts) there, and I feel like the city has such a heartbeat, and I always hate leaving.
Name four options for "a bigger better place" that you might fill in a form (in order of preference) that will go straight to God and he might send you to any one of them with the snap of a finger.
a) Because I like North Carolina so much, I wouldn't mind living here, but living in a bigger city. Somewhere such as Charlotte, Greensboro, or Raleigh.

London. I've heard stories about how wonderful the music and theater scenes are there, and I can't wait to go one day!
c) Chicago. I don't really have any reasons other than the fact that it seems like a cool city.
d) Seattle. Again, I've heard the music scene is amazing there. Plus, it looks like a really beautiful place to live.
I like the idea of living in a city that's a little more fast paced than my current one, but not terribly busy. I like the peace of the country and the buzz of the city.
Any fictional/real city/town that you've seen in a movie and really wanted to go live in?
The only one that comes to mind is from the movie PS I Love You. Like a lot of movies, the main location was New York. The way movies portray New York is a non-stop adventure, but it wasn't that great when I visited. Hahaha.It also had a lot of scenes in Ireland, and it looks absoltely beautiful there.
Which cultie lives closest to you?
The culties that live closest to me is Shana, probably an hour away from me.
Why do you feel you need a backup for your career plan?
I feel like I need a back-up because my parents are always saying "you can do better than I did." Neither of my parents went to college, and I'm scared and clueless when it comes to figuring all of this stuff out on my own. I chose psychology because I've had plenty of people say I'm their 'personal psychologist.' I've always loved being around people and being there for them when they need me. I always try to put others before myself. It gets tiring, but the payoff is completely worth it. Spreading love is what I'm all about. I really hope I can make a living off of writing, though.
Personal psychologist: have you become like the secret keeper of people you know?

Pretty much! Everyone knows they can trust me - even people that don't know me that well. I'll always make time for someone if they have a problem, and I love knwoing that people feel comfortable with coming to me about things. I have had people attempt to belittle me before, I suppose out of jealousy, and I'd have to remind them that although I'm probably the sweetest girl you'll ever meet, I'm also pretty "dangerous." I know things about everyone, and because I love to read and write, I have a pretty good knack for words. I live by something my Nanny (Dad's mom) used to say: "I'll trust someone until they give me a reason not to trust them." Although I can get along with pretty much any and every one, I've had a few catty girls try to get me down. They found out the hard way that if you stab me in the back, I'll use teh same knife against you. I may be a sweetheart, but that doesn't give you the right to use me as your emotional punching bag. I've had enough of that from my family, I don't need it from friends too.
Ah, I like your style
You got everyone by their metaphorical information balls.
HAHAHA. "Metaphorical Balls" I was on the phone when I read that, and I probably scared my friend with my laughter. I never looked at it that way, but it's true.
Any profession fictional/real that you'd sell your soul to pursue?
I want to be an entrepreneur. I want to be an author, singer/wong-writer, actress, and I'd want to design t-shirts on the side. I'm ambitious, eh? If anything, I'd want to be a writer. But music and theater hold a big place in my heart and I make my own t-shirts when I get bored, and I've sold/made some for friends.
You seem to have written a lot of verse on your blog. Do you read as much poetry as well? If yes, then favourite poet?
I actually don't read that much poetry. I like Bukowski and some things I've read in my A.P. English classes when I was in high school, but that's about it. I want to write more short stories, but I'm always self concious that I may be boring people with my details, whereas a poem can mean something to almost anyone. I should get over my fears and just go with the flow, I guess.
Would you call yourself a feminist?
I definitely think women should be treated equally with men, but it's not something that I'm going to go crazy over and refuse to shave my legs and wear flannel or something. Haha. Actually, I was watching COPS with my mom and it was a Mardi Gras edition and if women flashed they were rewarded with beads, but if dudes dropped their pants they were taken to jail. Granted, I'd rather not have boobs and penises flopping around in every direction, but I didn't understand what the difference was, and it annoyed me slightly.
Chewing gum?
I'm chewing Stride Winterblue gum. My favorite gum is actually Big red, though.

Mine too! What's the song that's playing in your head right now?
The song playing in my head today is "Fuck Was I" by Jenny Owens Young. It's playing inside my head because the guy that I like told me about it last night, and it seems very fitting for my 'love life' recently.
(http://www.youtube.com/watch?v=OZDT-FXXf-0)
Which book are you reading right now?
I'm currently reading The Book of Lost Things by John Conolly. Derek (Barcaboy) actually got it for me, and I'm just not getting around to reading it. It's great so far! The last books I read were A Million Little Pieces by James Frey and My Friend Leonard by James Frey, and Bertito (Tourist_information) sent me those. I'm so greatful for the amazing people on The Cult who've taken care of my need of books <3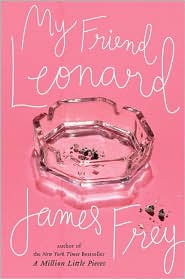 What is your favourite shade of lipstick?
I like lip gloss better than lipstick, but the shade I generally lean towards is a light pink color. I think it looks good with my pale skin. Haha.
What is your favourite food?
Macaroni and Cheese!
What would you call your staple diet?
I'm not really sure. Haha. I eat twice a day, if that, because I'm always busy and forget about it. I only drink water. Grab and go food is easiest. I'm content with a sandwhich and a banana. Haha
Your favourite cuisine?
I like Italian food? And my definition of Italian probably isn't that great: Spaghetti, Pizza, etc.
Do you cook?
Yes. Well, my family likes the traditional "southern food" so I can make that really well. Baked chicken and mashed potatoes and gravy etc. But, I'd rather bake than cook. My MawMaw has taught me how to make things like home-made lemon pound cake and chocolate pie. (:
You're closer to your dad or your mom?
I'm definitely closer to my dad. He wasn't around much when I was a kid, and he went to prison when I was 10. (He was sentenced to 6 years) But, throughout that time, my mom was never there for me. She was physically, but her drinking and drug abuse disconnected her from me emotionally and mentally. She constantly complained about how my sister & I were bad kids, and how she hated my dad because he couldn't pay child support from prison. As funny as it sounds, I'm thankful my dad went to prison. He striaghtened up, and now he's my hero. He 'saved me' from my mom, and I thank God for him every day.
How did you get into Palahniuk?
I heard about him from my favorite author, Chris Gutierrez. He had talked about him before in LiveJournal entries, and I wanted to check him out. Shortly after that, I realized he was the dude behind Fight Club, and I want (and still want) to get my hands on all of his books. So far, I've read Choke and Diary. I would've read more, but alas, poor kids can't buy books that often. Haha. Choke was my first. I remember reading it in my A.P. English class and being in love with the story. The first line had me hooked. I'd read parts of it allowed to my friends, and they'd look at me weird because I was so in awe of it. Oh, and my teacher called it smut. Hahaha.
Tell us about your "relationship with God".
I grew up around drugs, alcohol, abuse, and chaos. I started going to a church when my dad went to prison. It was like a second home to me, and God just made so much sense to me. I used to question why He'd give me such a fucked up family, but I realized it was a blessing. That through my chaotic world, I was becoming so much stronger, and my need for love and my desire to spread it, were that much more passionate. My mom would try to ground me from church, and she'd often call the pastor and tell him how 'terrible' I was. Long story short, I eventually felt like that wasn't a church I needed to be at. I saw the hypocrasy, and I wanted something more personal. I moved to another youth group, but eventually we were kicked out for wearing band t-shirts, and having mutli-colored hair, piercings, and tattoos. We never really liked the church anyway, but the kids were awesome. So, we formed out own youth group: C.O.R.E. (Christians of a Rad Eternity) and I teach it every Wednesday!
Are you a straight A student? How do you rate yourself as a student, as a learner?
I was in middle school. When I got to high school, my problems seemed to double. My mom was drinking more, my youth group had troubles, and my dad wasn't allowed to call as much because he was in a drug treatment program that would lessen his sentence. Eventually, I would ignore my teachers and read books during class to 'escape.' I still had a B/C average, but I wasn't into everything as much as the other kids. My teachers would get pissed because I "had so much potential" and I "refused to see it." I agree, though. I'm a good student. When I apply myself, I can accomplish great things. I love learning and having knowledge. It makes me feel good to be able to tell someone something I learned, or feel like I'm connected when people have conversations about things I know about.
Intoxicants?
Not at all. I mean, I've thought about it. "What the hell, everyone else is doing it, why shouldn't I?" But then I remind myself of the effects drugs, smoking, and alcohol have already had on my life, and I haven't even taken part in them! I think it would be completely stupid of me if I tried anything. I try to look at it as if my addiction is love. It sounds cheesy, I know. But honestly, I couldn't live without loving. I put 100% of myself into any and every relationship I have and will have, and even if sometimes it seems like I'm doing more work than the other people, I'm okay with it. I'd rather be addicted to loving people, and caring for people, and making sure I can brighten someones day, than ending up like my mother: sick, miserable, and alone.
Chuck Norris or Bruce Lee?
I guess I like Chuck Norris better. It's probably because my family has a joke about how my dad is Chuck Norris. Sometimes my dad will say "You know, I taught Chuck everything he knows. One day, I had to let him go. He begged for me to stay friends with him, but I was just too cool for him, you know?"

Which is your all time favourite movie? Also your guilty pleasure movie? ALSO: if you were granted a wish to play any role from all the movies you've seen so far, what role would you play?
I love theater and art! My all time favorite movies are Pretty In Pink, Juno, and Little Miss Sunshine. My guilty pleasure movie is probably any musical. Ever. And if I was given one role to play in any movie I've seen, I'd probably want to be Juno in Juno, hahaha. I adore Michael Cera (who plays Bleeker) and her cheeky comments made me smile.

What shampoo do you use?
Pantene Pro-V in the pink bottle! It smells so good!
Do you own a cellphone? Tell me more about the phone. How many hours of a day do you spend talking on the phone, cell/no-cell?
I do! I have an Env2 and it's yellow, pink, green, and purple. I'll have to get a picture of it! I only spend about an hour and a half each day on teh phone, talking to my best friend at night time. But I spend all day texting people on and off.
Do you have a boyfriend or are you dating anyone?
I don't have a boyfriend nor am I dating anyone. I have bad luck with this. I've been cheated on quite a few times and I've been "the friend" a lot. In retrospect, it doesn't bother me much, because the guys that I've dated aren't that spectacular. I don't know if I just haven't found someone worth dating or if it's not for me. As long as I have a cuddle buddy, I'm content. Haha.
Your first kiss?
Well, the boy ended up being a total ass, but it was a cute thing at the time. I was 15 and we were at warped tour. We went to the ampitheater to watch Gym Class Heroes. He kissed me during the song "Papercuts." Haha, I was completely taken aback and excited. However, I think I was more excited to meet Travis (the lead singer) afterwards. It felt weird, and I probably didn't do a good job at it, but it was okay because it was my first warped tour, and I was stoked for all the bands.
The most memorable moment in any relationship?
The most embarrassing is probably when I was cheated on. I guess I shouldn't be embarrassed because some dudes disrepect for me shouldn't reflect on my as a person, but I trusted him at a time when I didn't trust many people, and it hurt. I especially hated having to explain to everyone what happened. The best memory I have is probably with my most recent ex. It was a long-distance relationship which was pretty hard, but it was amazing while it lasted. We both had fallen in love with the movie Juno, and after seeing it about 3 times in the theaters each, we decided we wanted to 'watch it together.' So, when it came out on DVD, we bought it, called each other, and watched it on the phone together. It was nice. (: Oh! And we'd often mail each other books and things. We still do, actually. That's how I got Nick and Norah's Infinite Playlist and how he was introduced to Chuck Palahniuk!
If you were to keep anyone locked in your attic, who would it be?
That's hard to answer, because I'd have different reasons for different people. For instance, I'd want Adam Brody stowed away as a sex slave. Whereas I'd also want a place to store everyone who I feels make shitty music. I.E. The Pussycat Dolls. The song (When I grow Up) or whatever it's called is reason enough to hate them. That song outlines all of the reasons I would despise someone for making music. Wanting money, cars, groupies, etc. It's annoying/sickening etc. etc.
Any woman you could turn bisexual for?
Either Hayley Williams of Paramore or Katy Perry. (And not because of "I Kissed A Girl") Hayley Williams is adorable! I've had people tell me I vaguely resemble her (must be the red hair, but I don't see it.) Anyway, she's wonderful. And Katy Perry has this vintage pin-up girl style, and it's completely adorable. Plus, she dates Travis McCoy of Gym Class Heroes. I wouldn't mind getting close to him either. Hahaha.
If you were to seduce a guy, what part of your body would you use?
I guess I'd use my mouth. I'd want to use my mind, but since it needs to be physical, my mouth is the next best, I guess! Haha. I like that your mouth can show so many emotions. I.E. Frowns, Smiles, Smirks.
Have you done anything that borders on exhibitionism or voyeurism? I want details, names not necessary.
Hahaha, No. I'm still a virgin and I want to remain that way until I'm in a stable, long-term relationship. I get alot of shit for my choice, but I just don't think casual sex is something my emotions could handle. The way my parents are addicted to substances, is the way I'm addicted to people. I wouldn't be able to stand knowing that I gave a part of myself away to someone who didn't care as much as I did.
If you HAD to set fire to any monument in the world and watch it ablaze, what would it be?
I had to google "Lists of Monuments" for this question. Hahaha. I found cool ones about Dinosaurs and Rainbows! Then I found "Cedar Breaks National Monument " I figure if Cedar breaks, Cedar can burn too!
If you were to build a timeless testimony that you lived, you see it represented as what monument?
I'm such a nerd. I'd want a library/record store type deal in memory of me. But, only as a hang out. No checking out books or selling anything. Just a place people could go and talk about music and books and be themselves. Like the Cult, only physical. And a lot less use of the word "cunt." Hahaha.
If you had to had to commit suicide, how would you do it?
Bleh. I hated this thread. I'd want it to be quick and painless. I don't think it'd make it any more awesome if I struggled before my death. I'd want soft music to be playing, no doubt. I'd probably go with an overdose. Although, I doubt that'd be painless.
If you had to had to kill someone, how would you do it? How would you do it if you hated the person to no end? How would you do it if you didn't care who it was?
If I didn't care who they were, I'd shoot them, I guess. In a way where they wouldn't suffer, though. And if it was someone I hated, I'd still just shoot them. Maybe in with more suffering. I'm not really sure. I don't hate anyone. Haha.
If you didn't have to have to but someone offered you money, for how much money would you kill someone?
I wouldn't. I couldn't. Money would pay for eveyrthing and I guess make life easier, but I'd hate myself for what I had done.
Well, around then we kinda just randomly stopped emailing each other and that's about it. Some of the information has changed in the last eight months like the shampoo she was using and hence has been updated accordingly. Hope you had fun reading it
(And I stole the picture from her FB profile pictures)
Want to interview a fellow cultie?
If you want to interview a fellow cultie, the process is really simple.
Begin by sending Mirka a private message. Be sure to tell her who you want to interview. Once you have completed your interview, let her know and she'll give you the ability to enter your interview. Once it is approved we'll make it live!