Webster-Kirkwood Times article on local authors - Richard Thomas, Transubstantiate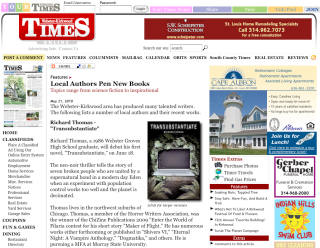 So I'm really excited that there is a group profile on local authors in the Webster-Kirkwood Times (circ. 30,000) and online as well, just went live yesterday. I grew up in Webster Groves and went to high school there. My first clipping!
http://www.websterkirkwoodtimes.com/Articles-i-2010-05-21-169671.113118_...