ETERNAL NIGHT: A Vampire Anthology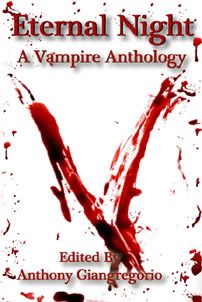 This is more Mr. Dwyer's baby now, and really, Tony's at Living Dead Press, but since there is an update on their site, I thought I'd post it up here.
ETERNAL NIGHT is the new title (used to be Shadow Kindred). Here is the synopsis from the website:
http://www.livingdeadpress.com/
Eternal Night: A Vampire Anthology
Edited by Anthony Giangregorio
Blood, fangs, darkness and terror...these are the calling cards of the vampire mythos.
Inside this tome are stories that embrace vampire history but seek to introduce a new literary spin on this longstanding fictional monster. Follow a dark journey through cigarette-smoking creatures hunted by rogue angels, vampires that feed off of thoughts instead of blood, immortals presenting the fantastic in a local rock band, to a legendary monster on the far reaches of town.
Forget what you know about vampires; this anthology will destroy historical mythos and embrace incredible new twists on this celebrated, fictional character.
Welcome to a world of the undead, welcome to the world of Eternal Night.
Coming Soon!
I can't remember ALL of the people that are in the collection, but to the best of my recollection, the Velveteers/Culties are
Richard Thomas
Christopher Dwyer
Nik Korpon
Caleb J. Ross
Axel Taiari
Chris Deal
Simon West-Bulford
Edward J. Rathke
also...
Alan Kelly (of Dogmatika fame)
My story "Transmogrify" is one of my all-time favorites, so I'm thrilled to have it in here. It's the aforementioned story about people feeding off of thought and emotion. I've read most everything in here and can honestly say it is some fantastic writing.
I'll post up when it is live and available for purchase.