They said it couldn't be done. They said it wouldn't be done!
For your viewing pleasure. All done on Post-It notes.
Ort!
With Easter weekend, I wanted to do something holiday related so I put 3 scarecrows in a field like they were being crucified. If you look closely, there's a little easter bunny at the bottom.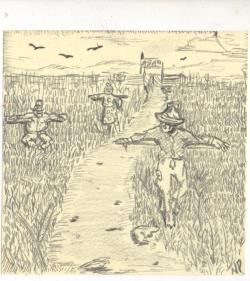 Baseball Opening Day!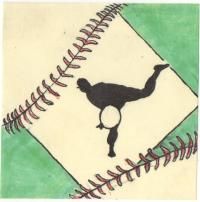 Don Quixote. I don't really like this one. The horse looks terrible. I might re-do it.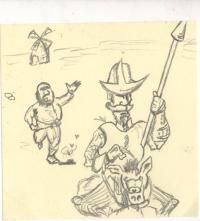 Speaking Softly. Sharp eyes might notice the Outlaw Josey Wales eyeballs.

Yin-Yang. I thought it'd be funny to do a unicorn. Then I remembered something I read a while back about the Unicorn and the Scape-Goat being it's opposite, so I figured doing a yin-yang thing with them.

Super Bones - Retired. Super Bones faces his toughest adversary yet. The evil Osteoporosis!